Ethereum Dapp Development Hands-On Session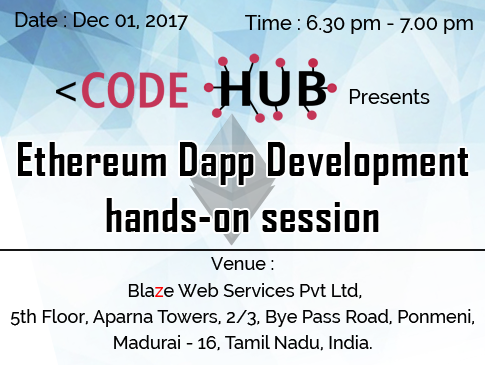 Join us in our next meetup "Ethereum Dapp Development hands-on session" Entry charges: Nil,Speaker: Mr.Paim Pozhil, Mentor, Codehub,When: 01.12.2017, Friday @6.30PM.Where: Blaze Web Services Pvt Ltd For further information, Contact: [email protected], 9042066515
Ethereum Dapp Development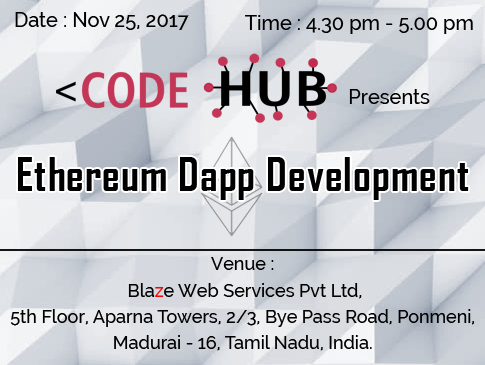 You are invited! To our exclusive evening event on Ethereum Dapp Development Mark Your Calendar for Saturday, November 25th to join us and discuss about developing ethereum Dapp. Speaker: B. Ilampirai Nambi, Mentor, CodeHub When: November 25, 2017, Saturday Where: Blaze Web Services, 5th floor, Aparna towers 2/3 Byepass road, Ponmeni, Madurai-16 For further details,Contact person: Dheepika
Discussion on Ethereum Smart Contract Development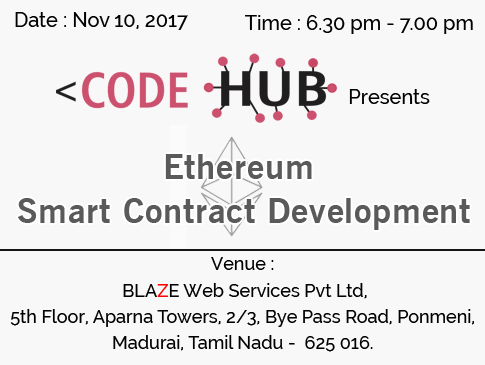 Discussion on Ethereum Smart Contract Development You are invited! November 10, 2017, Friday To our exclusive evening event on Ethereum smart contract development Mark Your Calendar for Friday, November 10th to join us and discuss about developing ethereum smart contract. Speaker: Paim Pozhil, Mentor, CodeHub
Discussion about Ethereum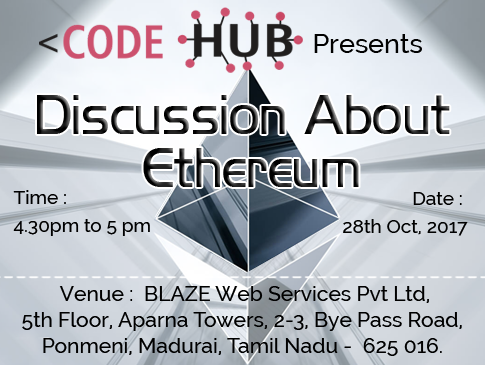 Discussion about Ethereum Join us on,October 28, Saturday @4.30PM to discuss about Ethereum and smart contracts. When: Saturday @4.30PM - 5PMWhere: Blaze Web Services, MaduraiSpeaker: Mr. Paim Pozhil, Mentor, CodeHubEntry charges: Nil Contact details: Dheepika for further information.
Introduction about Blockchain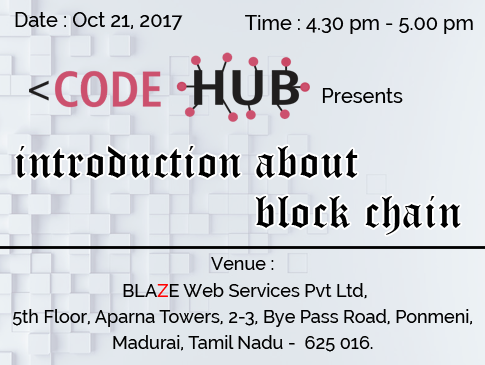 Introduction about Blockchain Join us on,October 21, Saturday @4.30PM Entry charges: Nil Speaker: Paim Pozhil When:Saturday @4.30PM.Where: Blaze Web Services Contact Person: Dheepika
Discussion on Cryptocurrency
All about AMP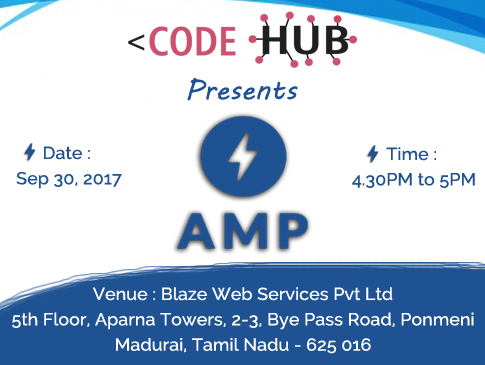 Join us in our next free meetup All about Accelerated Mobile Pages Do you want to know what"s AMP? What makes AMP fast? Are you going to create your first AMP page? Then this meetup will be worthwhile for you.When: September 30, 2017 @4.30PM-5PM Where: Blaze Web Services, Madurai Contact: Dheepika
Overview of JSON & Web Services API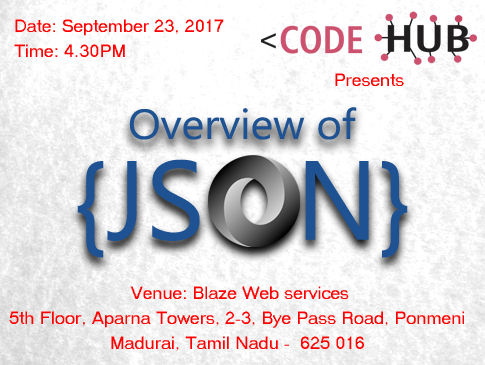 Are you interested to know about JSON? We are coming up with our next free meetup to discuss about JSON. We"ll start from basics and discuss more about it. A lot of questions might run on your mind when you hear about it.Come & Join us. Let"s Talk, learn more about JSON.For further details, Contact person: Dheepika No entry charges.
Interactive Session on Database Optimization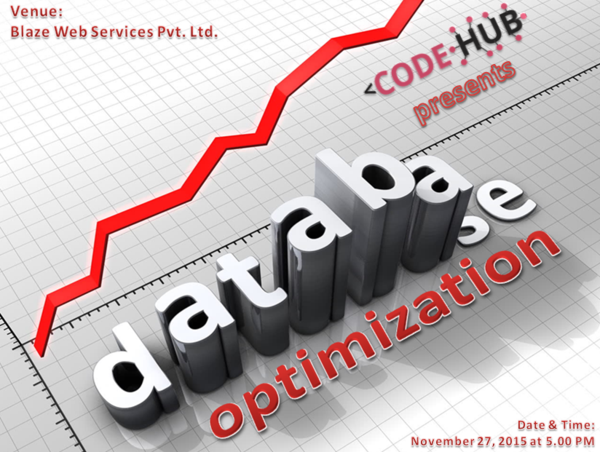 Join us for Database Optimization Meetup in Madurai on Friday, November 27!
This event is ideal for business and technical leaders, as well as IT Pros and developers who are eager to learn more about database specialties.
W​e can discuss production MYSQL practices​ and ​especially opportunities around the emerging area of data processing​.
Look forward to meeting with many more.

CodeWarriors - Programming Contest @ Blaze, Madurai
Greetings from CodeHub. Happy to see you all again on Coding Contest. This Contest helps to show off your computer programming skills. Candidate with knowledge of any Coding Language can participate. The contest is open to all.
• Contestants can participate as 2 per Team.
• Participation certificates to all attendees.
• Winners will receive an Medal/Certificates.
Only your best score counts! If you feel, this is worth a shot, register now and participate in the contest.
Online Registration Open! Free Entry.
Visit www.codehub.co.in/reg
Registration closes on November 06, 2015.
PHPast & PHPuture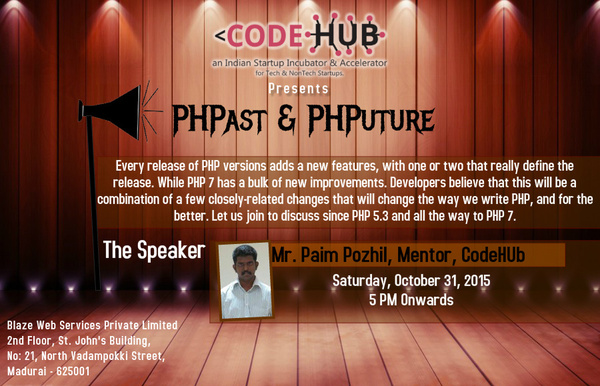 Every release of PHP versions adds a new features, with one or two that really define the release. While PHP 7 has a bulk of new improvements. Developers believe that this will be a combination of a few closely-related changes that will change the way we write PHP, and for the better. Let us join to discuss since PHP 5.3 and all the way to PHP 7.

Interactive Session on PhoneGap vs Native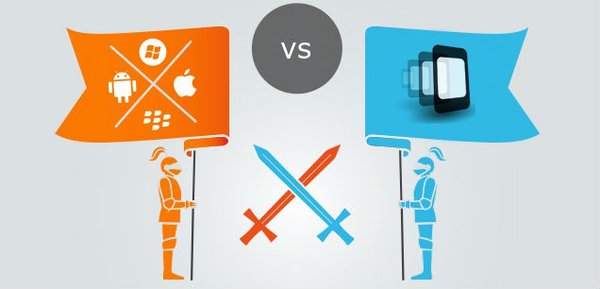 People enjoy using their smartphones because they can accomplish many things on the go such as reading e-mails, social networking, watching movies and plenty of other activities. We enjoy smartphones because they have many applications that make everyday activities easier.
If you are thinking of developing for the mobile application market, an important decision is to decide between developing a native application or a hybrid one(PhoneGap).
It's an age old question that refuses to go away, we thought it was time to revisit… Which is the best?

Handling Online Work vs Distractions!
Getting Most Out of Cloud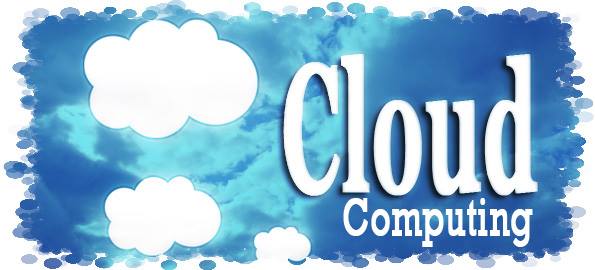 Participating is a great way to get involved and stay informed of cloud computing. The panel will discuss different cloud models and how they are suitable for different scenarios.It also highlight some guidelines for adopting these models, and the pitfalls to avoid. They will discuss the latest trends in SaaS, PaaS and IaaS and its adoption.

CodeHub"15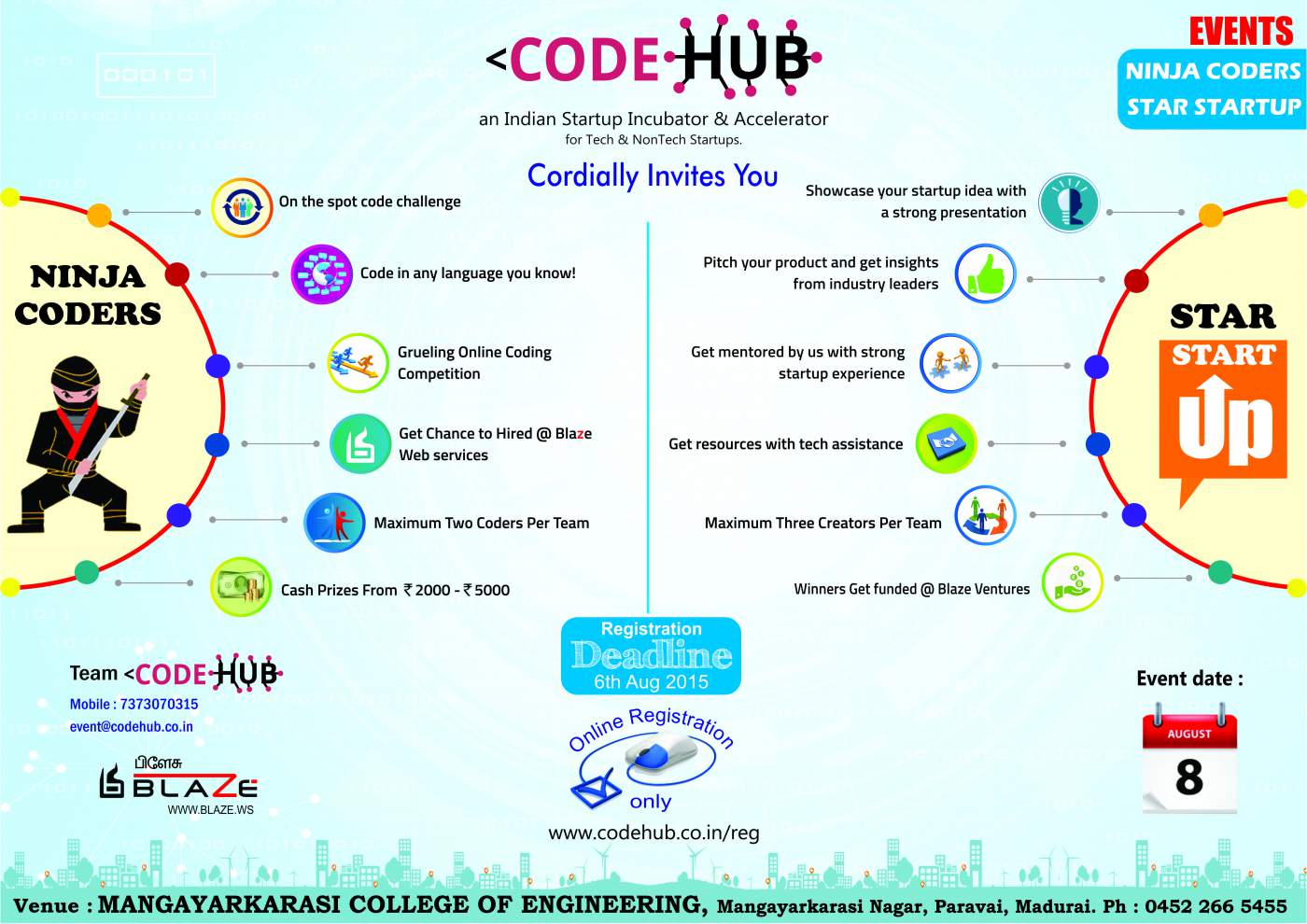 On the basic Survey, 43% of employees are distracted from 21-75% (or more) of the workday. It happens. But we do have a few ideas on how to manage them. If you have a few minutes, join with us on October 17, 2015 to know. Speaker: Mr. Karthikeyan, Mentor CodeHUB.
Event Description : Greetings from CodeHub, an Indian Startup Incubator & Accelerator for Tech & Non-Tech Startups. The time has come to start organizing the Start-up contest this year. We are inviting around 50 colleges to make the competition more interesting. You can go through the details in the attached brochure.

Entry Fees Rs.100/- per participant.
Agenda :
| | |
| --- | --- |
| 9.00 AM onwards | Registration |
| 10.00 AM onwards | Event Introduction |
| 10.30 AM – 12.30 PM | Ninja Coders | Star Start-Up Begins |
| 12.30 PM – 12.45 PM | Break |
| 12.45 PM – 1.00 PM | Start-Up: Mentor Session |
| 1.00 PM – 1.30 PM | Prize and Certificate Distribution |
| 1.30 PM | Closing remarks |
Notes :
*The Event is open to all Department.
*Participants should be present 30 minutes before the commencement of the event.
*Intimation Letter is Mandatory.
Online Registration Link :
Click Here To Registration Link.